MBCP Statement: COVID-19 Response for Customers:
MBCP recognizes COVID-19 is impacting customers and communities both economically and socially as we all shelter in place. While many local, state and federal programs are available to support customers, MBCP is here to provide support to all customers we serve.
50% of Your May and June MBCP Electric Generation Charges Will Be Deferred.
In response to these hardships, MBCP leadership determined immediate and decisive action to benefit all customers was needed. After careful analysis of the possible actions, MBCP Boards voted, on April 13, 2020, unanimously in favor of financial relief to all customers that above all, would be swift and equitable.
Summary of MBCP Financial Relief
·

No action needed to benefit from cost deferment
·

50% of MBCP Electric Generation Charges for all customers deferred for the billing months of May and June 2020
·

Resulting deferred charges for all MBCP customers totals an estimated $22.4 Million
$6.45 million for residential customers

$10.95 million for commercial customers

$5.03 million for agriculture customers
·
Deferred costs for all customers will be recouped over the next 18 months but customers will still save compared to PG&E rates through the following measures:
MBCP will decrease its Energy Programs funding from 4% to 3% of revenue through 2021

MBCP will adjust its electric generation rates

to 2% below PG&E's for the months of July through December 2020
·

Overall cost savings will continue during and after deferred-cost recoupment period
·

Customers will actually spend less on electricity in 2020 with this program than if MBCP did not take an action
Please Click here to review MBCP's COVID-Response Press Release.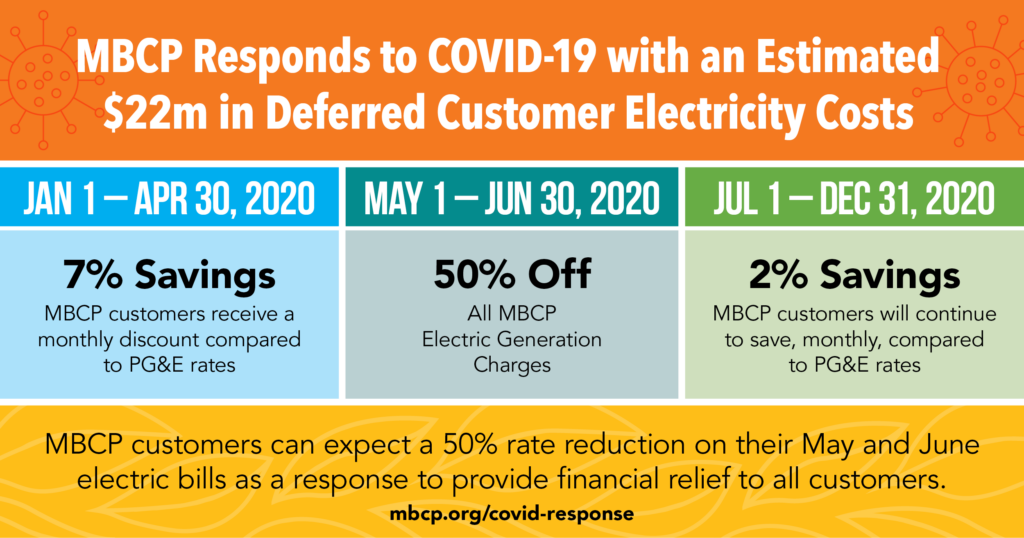 Community Resources Amidst COVID-19
PLEASE NOTE: 
PG&E has announced there will be NO DISCONNECTIONS during this public-health crisis. There is no need to contact MBCP separately regarding billing issues. 
As we spend more time at home, our electricity and gas usage will naturally increase. If you have experienced financial hardship, you may qualify for discounts. 
Please review provided resource links regarding both discount programs and energy saving tips. >
Also be sure to follow your county's Office of Emergency Services on social media for important updates and information.
MBCP appreciates each and every customer within the communities we serve and we wish you well during this time of uncertainty. Please reach out to us if you have any questions: 888.909.MBCP (6227) or info@mbcp.org