How CCCE Works

Powered By Community Choice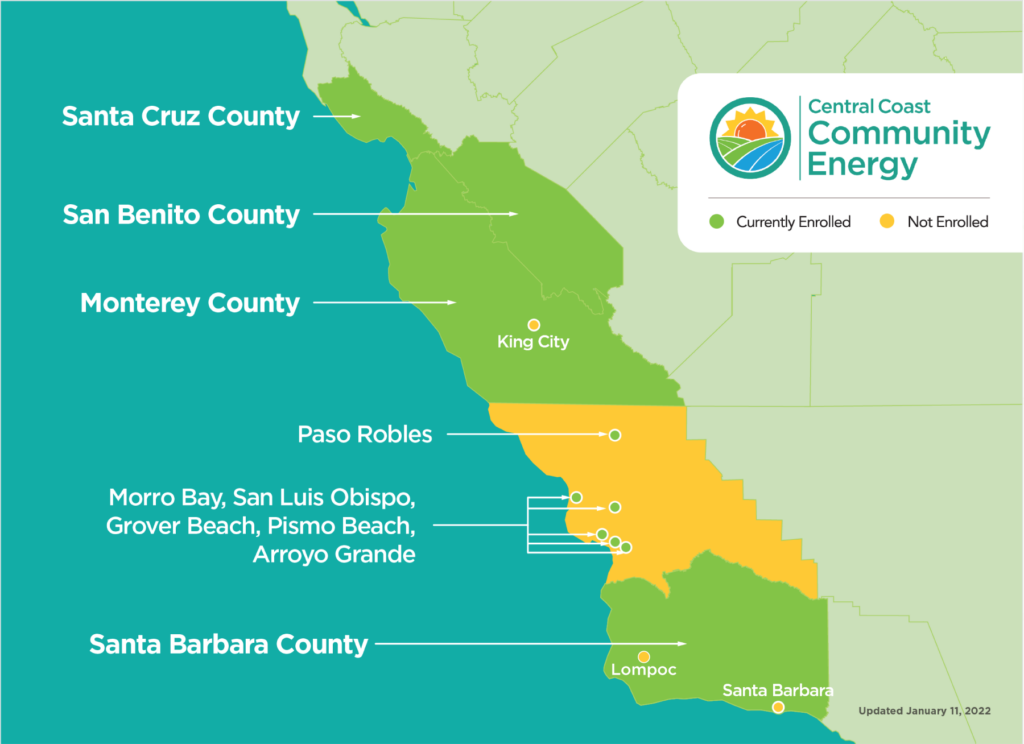 Thirty-three communities joined Central Coast Community Energy (CCCE) with the shared goal of gaining more control over their electricity needs: to reduce greenhouse gas emissions, support the growth of clean and renewable energy, and access additional economic and environmental benefits.
What is "community choice" energy?
CCCE follows the Community Choice Aggregator or "CCA" model, a community-focused, not-for-profit model that allows for greater commitment to clean and renewable energy while supporting community reinvestment for affordable and fair rates and equitable access to clean-energy resources.
More than 11 million Californians are served by 24 community choice energy agencies, accounting for nearly a quarter of the state's electricity load. Collectively, CCAs are significantly contributing to a cleaner, more reliable grid.
How does CCCE work?
Here is a simple explanation:
As a CCCE customer, your utility (PGE or SCE) continues delivering power as well as maintaining electric infrastructure and billing, but CCCE and the communities we serve now manage where (local vs. California vs. out-of-state) and how (solar, wind, geothermal, etc.) our electricity is generated. With no investors or shareholders to pass profits on to, together with our customers, we choose how best to reinvest in our Central Coast community.
PGE or SCE continues charging for Transmission and Distribution, while CCCE now charges for Electric Generation (formerly part of PGE or SCE Bundled Service costs).

Here is a more technical explanation:
CCCE assumes exclusive responsibility for electricity generation, including purchasing electricity from generators, investing in generating resources, and balancing supply with demand. PGE or SCE retains sole responsibility for CCCE customers' electricity distribution, including grid infrastructure investment and energy delivery (Transmission and Distribution charges). PGE and SCE are also responsible for metering and billing, including one comprehensive bill including CCCE Electric Generation Charges*.
With no investors or shareholders, CCCE can use its revenue to finance worthy public benefits programs such as customer rebates for electric transportation (electric vehicles, bikes, motorcycles, and buses) or electrifying buildings by switching gas-powered appliances (water heaters, HVAC, cooktops, etc.) to clean, all-electric solutions. In just our first four years of service, CCCE made more than $26 million in rebates and incentives available to customers through energy program rebates and incentives. CCCE's knowledge of our diverse Central Coast community can help improve the effectiveness of investments by targeting programs that support unique community priorities. Current CPUC rules also allow CCCE – and the 23 other CCAs operating in California – the right to administer public goods funding for energy efficiency programs.
*All electricity customers pay for electric generation. However, PGE and SCE choose to roll generation charges into one "bundled services" charge. CCCE is committed to local control and transparency, provides a more detailed breakdown of charges and allows for public participation in meetings, for example, during rate-setting proceedings.