Central Coast Community Energy and the
County of Santa Barbara Partner on
Transportation Electrification
September 13, 2022
22 chargers installed at five locations including solar + storage site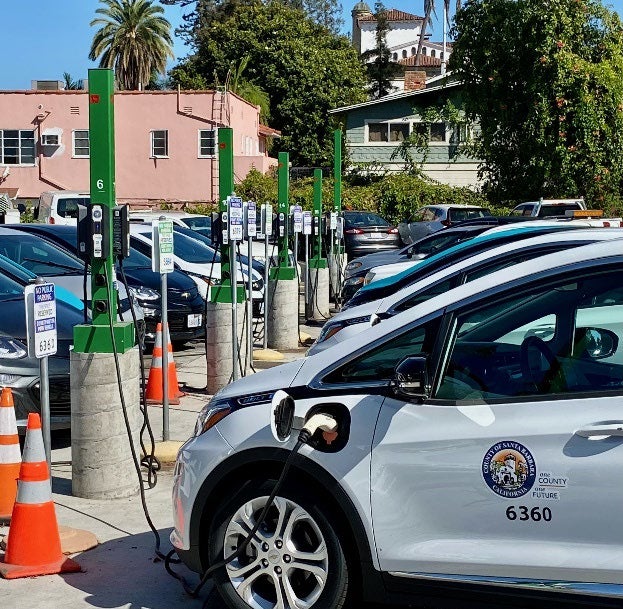 Santa Barbara County, CA – September 13, 2022 – Central Coast Community Energy (CCCE) has partnered with the County of Santa Barbara to further transportation electrification in the area, granting $242,000 for the installation of 22 new electric vehicle (EV) charging stations and the purchase of light-duty electric vehicles.
CCCE granted the County $92,000 in incentives for EV charging infrastructure that went toward the purchase of Powerflex Level 2 chargers. The charging stations provide additional electricity sources for the 7,000 EV drivers in the County and improve feasibility for many would-be EV drivers, helping reduce emissions and better air quality.
Charger Locations:
The County of Santa Barbara is also planning to purchase 30 new light-duty electric vehicles with $150,000 in incentives from CCCE's Light Duty Fleet Electrification Program.
"Through its Light Duty Fleet Electrification Program, CCCE's Member Agency Services Team provided Santa Barbara County with $242,000 for electric vehicles and electric vehicle charging infrastructure helping us to accelerate our electrification efforts," said Skip Grey, Assistant Director of the General Services Department of the County of Santa Barbara. "These dollars are well spent and significantly help us to reduce both GHG and other vehicle exhaust emissions while at the same time increasing our overall operating efficiency and driver comfort. Truly, this has been a win-win engagement."
CCCE Light-Duty Vehicle Electrification Program
Central Coast Community Energy offers the 33 cities and counties that signed onto the Joint Powers Authority agreement that governs the agency the opportunity to apply for funding to help cover expenses for light-duty fleet electrification, electric vehicle (EV) infrastructure, and EV readiness through its Light-Duty Vehicle Electrification Program. Funding needs must be identified by CCE's Member Agencies in their fiscal year budget and/or through an EV fleet procurement policy with annual targets.
The Future of EV Charging Stations Needs Public Input
Six California central coast counties have collaborated on an interactive online mapping tool designed for the public to offer input on where electric vehicle charging stations should be located. The project aims to identify ideal spots for new public charging stations in Santa Cruz, San Benito, Monterey, San Luis Obispo, Santa Barbara and Ventura counties. Electric vehicles are essential to the fight against climate change, and more charging stations are needed to recharge vehicles, particularly in rural and traditionally underserved communities.
The information gathered from the interactive online mapping tool will help create the Central Coast Zero Emission Vehicle Strategy. Santa Barbara County Association of Governments (SBCAG), Association of Monterey Bay Governments (AMBAG), and San Luis Obispo Council of Governments (SLOCOG), along with the local county governments of Ventura, Santa Barbara, San Luis Obispo, Monterey Santa Cruz, and San Benito counties have partnered to develop the strategy.
The interactive mapping tool is live and available to the public through October 2022 at http://www.bit.ly/CCZEV.
A quick video tutorial on how to use the interactive mapping tool is also available at www.bit.ly/InteractiveMapVideo.
About Central Coast Community Energy
Central Coast Community Energy is a public agency that sources competitively priced electricity from clean and renewable energy resources. CCCE is locally controlled and governed by board members who represent each community served by the agency. Revenue generated by CCCE stays local and helps keep electricity rates affordable for customers, while also funding innovative energy programs designed to lower greenhouse gas emissions and stimulate economic development. CCCE serves 436,000 customers throughout the Central Coast, including residential, commercial, and agricultural customers in communities located within Monterey, San Benito, San Luis Obispo, Santa Barbara, and Santa Cruz counties. Learn more at 3CEnergy.org and on social media, including Facebook, Instagram, and Twitter @3CEnergy.

For more information:
Central Coast Community Energy
Lena Wallace
Communications Specialist
831-641-7206
lwallace@3ce.org