Community Energy Agencies Contract for 778 MW of Renewable Energy and 118.75 MW of Storage
July 19, 2021
New solar + battery storage projects to support California's grid transition
For Release On
July 19, 2021
Monterey and Sunnyvale, Calif. – Central Coast Community Energy (CCCE) and Silicon Valley Clean Energy (SVCE) have executed seven power purchase agreements, equating to 778 MW of energy generation between the two Community Choice Aggregators (CCA). These long-term contracts are a result of the Request for Offers (RFO) jointly issued by the CCA agencies in 2019 and 2020.
The joint contracts include one wind, one solar, and three solar-plus-storage projects. The solar and solar-plus-storage projects are new builds and will add new generation capacity to the California grid on behalf of the CCA's combined 670,000 customers.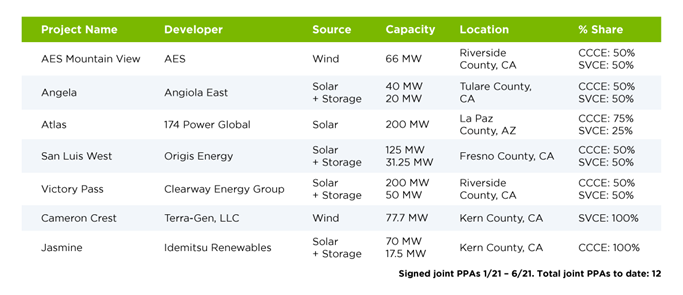 In addition to the joint procurement effort the two agencies signed individual contracts for two separate projects. CCCE signed a power purchase agreement with Idemitsu Renewables for 70 MW of solar and 17.5 MW of battery storage from the Jasmine project in Kern County, CA and SVCE signed a contract with Terra-Gen LLC. to receive 77.7 MW of wind energy from three existing wind facilities in Kern County, CA.
"CCAs are a leading force in California's efforts to reach a zero-carbon grid. CCCE and SVCE's joint procurement of 778 MW of clean electricity and 118.75 MW of storage, the majority of which is new capacity, exemplifies the value CCAs are providing as they spur the creation of green jobs and economic growth throughout California," said Beth Vaughan, executive director of the California Community Choice Association (CalCCA). "Leveraging partnerships will continue to be a crucial piece of the clean energy transition as we look to increase grid resilience and reliability."
The CCAs have selected a combination of generation sources that complement each other to support a reliable grid. Solar generation is plentiful during the day, and wind generation peaks in the evening. The addition of battery storage to the solar projects will provide clean energy to the grid during evening peak hours, when solar generation is low and electricity demand is high.
"Central Coast Community Energy has made important strides accelerating the deployment of renewable energy in a reliable and fiscally responsible way on behalf of its Central Coast customers by partnering with SVCE to further improve our purchasing power of large-scale, long-term renewable energy and storage," shares Tom Habashi, CCCE CEO. "Bringing these new projects online helps our agency add a total of 373 MW of solar and wind energy and 52.5 MW of energy storage to our portfolio and reduce the demand for evening fossil fuel use in California."
"While delivering on our commitments to provide clean energy to our communities, we also wanted to make a difference beyond our service area and create new opportunities to reduce emissions statewide. SV Clean Energy has now signed nine contracts for brand new clean energy projects that are bringing jobs and economic benefits to the regions where these projects are being built," said Girish Balachandran, SVCE CEO. "Taking a joint approach has allowed us to have an even larger impact on the California grid and SVCE will continue to strive for an affordable, resilient, and reliable grid."
The CCA's joint procurement efforts have offered multiple benefits, including shared risk mitigation and greater negotiating power resulting in cost savings that are ultimately passed onto customers. Central Coast Community Energy and SVCE have signed 12 power contracts together, for a total of 1,470 MW and $2.77B committed.
Additionally, the newly contracted solar plus storage projects are all new facilities and will help meet California's recent order to build at least 11.5 GW of new resources by 2026 (CPUC D.21-06-035). These new resources are needed to integrate existing renewables, ensure reliability, and replace retiring capacity from Diablo Canyon Nuclear Power Plant.
Central Coast Community Energy and SVCE are also part of a joint effort to procure 500 MW of long-duration storage with seven other CCAs through California Community Power. Information on the long-duration storage procurement process can be found at svcleanenergy.org/joint-lds-rfo.
###
About Central Coast Community Energy
Central Coast Community Energy (CCCE) is a public agency that sources competitively priced electricity from clean and renewable energy resources. CCCE is locally controlled and governed by board members who represent each community served by the agency. Revenue generated by CCCE stays local and helps keep electricity rates affordable for customers, while also funding innovative energy programs designed to lower greenhouse gas emissions and stimulate economic development. CCCE serves more than 400,000 customers throughout the Central Coast, including residential, commercial and agricultural customers in communities located within Monterey, San Benito, San Luis Obispo, Santa Barbara and Santa Cruz counties. Learn more at 3CEnergy.org and on social media, including Facebook, Instagram and Twitter @3CEnergy

About Silicon Valley Clean Energy
Silicon Valley Clean Energy is a not-for-profit, community-owned agency providing clean electricity from renewable and carbon-free sources to more than 270,000 residential and commercial customers in 13 Santa Clara County jurisdictions. As a public agency, net revenues are returned to the community to keep rates competitive and promote clean energy programs. Silicon Valley Clean Energy is advancing innovative solutions to fight climate change by decarbonizing the grid, transportation, and buildings. Learn more at SVCleanEnergy.org.

Media Contacts:
Central Coast Community Energy
Shelly Whitworth
Senior Energy Media Specialist
Tel: +1-831-229-0277
swhitworth@3CE.org
Silicon Valley Clean Energy
Michaela Pippin
Communications Specialist
Tel: 408-721-5301 x1020
Michaela.pippin@svcleanenergy.org