MBCP And SVCE Sign Contracts For 210 Mw Of Geothermal And Solar Energy In California
April 21, 2020
Community choice energy providers acquire long-term renewable energy resources
Monterey, CA., Sunnyvale, CA. April 21, 2020 – MBCP and SVCE today announced the signing of two significant renewable energy contracts, one for geothermal generation and the other for solar. These new contracts add to each agency's California Renewable Portfolio Standard-eligible resources, as part of a power mix dedicated to improving grid reliability while supporting the growth of and access to renewable energy resources across the state. The collective buying power of community choice energy (CCE) agencies like MBCP and SVCE, in partnership with their customers, continues to drive the state's unprecedented growth of affordable, reliable clean energy for Californians.
The geothermal contract is with Coso Geothermal Power Holdings. The plant is located in Inyo County, CA. It is an existing geothermal facility that provides "baseload power" – which, unlike solar and wind, is available 24 hours a day. The contract outlines a 60/40 split between MBCP and SVCE, with MBCP receiving 67.5 MW/yr and SVCE receiving 43 MW/yr for the first five years, a combined total of 110.5 MW/yr. During the following 10 years, the MW/yr reduces to 50 and 28, respectively.
"Monterey Bay Community Power is committed to supporting renewable energy on behalf of the communities we serve," said Tom Habashi, CEO of Monterey Bay Community Power. "This agreement with Coso Geothermal will meet 11% of our total load and moreover, the 24/7 availability of geothermal makes significant contributions to overall grid reliability by complementing our existing solar power sources. This is a big win for MBCP, SVCE and all of our customers."
The solar plus storage energy contract jointly procured by MBCP and SVCE is with Rabbitbrush LLC. This project will produce renewable energy benefits by pairing solar generation with battery storage, offering a source of power and potentially even extra revenue after the sun has set. Rabbitbrush will provide 3% of both MBCP's and SVCE's total electricity needs through a combined capacity of 100 MW/AC of solar PV and 20 MW of battery energy storage. The contract with the plant, which is scheduled to become operational in June 2022, lasts 15 years. The Rabbitbrush project is located in Rosamond, CA in Kern County, home to another MBCP-SVCE joint procurement deal with BigBeau Solar, one of California's newest and largest solar-plus-storage projects to date.
"The contracts with Coso Geothermal and Rabbitbrush allow us to continue serving our customers' request for clean, renewable energy when they need it," said Girish Balachandran, SVCE CEO. "This also positions us well to continue providing reliable, affordable energy to our customers while advancing state goals for resource adequacy."
The two power purchase agreements selected from MBCP and SVCE's joint request for offers are by design complementary to each other. Not only do geothermal facilities provide 24/7 available renewable power, they also produce their maximum energy in cooler months and provide a slightly reduced output in the hotter summer months, counteracting the solar energy output peak during long summer days. Additionally, these agreements allow both MBCP and SVCE to meet California's Renewable Portfolio Standard which requires over 26% of renewable contracts to be over 10 years in length.
# # #
About: Monterey Bay Community Power is a Community Choice Energy agency established by local communities to source carbon-free electricity for Monterey, San Benito and Santa Cruz counties in addition to San Luis Obispo and Morro Bay as well as most of San Luis Obispo and Santa Barbara Counties starting in 2021. PG&E and SCE continue their traditional role delivering power as well as maintaining electric infrastructure and billing. As a locally controlled public agency, MBCP supports regional economic vitality by sourcing cleaner energy at a lower cost and advancing local energy programs to accelerate electrification, fuel-switching and resiliency. For more information, visit www.mbcp.org

About: Silicon Valley Clean Energy is a community-owned agency serving the majority of Santa Clara County communities, acquiring clean, carbon-free electricity on behalf of more than 270,000 residential and commercial customers. As a public agency, net revenues are returned to the community to keep rates competitive and promote clean energy programs. Member jurisdictions include Campbell, Cupertino, Gilroy, Los Altos, Los Altos Hills, Los Gatos, Milpitas, Monte Sereno, Morgan Hill, Mountain View, Saratoga, Sunnyvale and unincorporated Santa Clara County. SVCE is guided by a Board of Directors, which is comprised of a representative from the governing body of each member community. For more information, please visit SVCleanEnergy.org.
Monterey Bay Community Power
Shelly Whitworth
Senior Energy Media Specialist
Tel: +1-831-229-0277
swhitworth@mbcp.org
Silicon Valley Clean Energy
Michaela Pippin
Communications Specialist
Tel: +1-408-721-5301 x1020
Michaela.pippin@svcleanenergy.org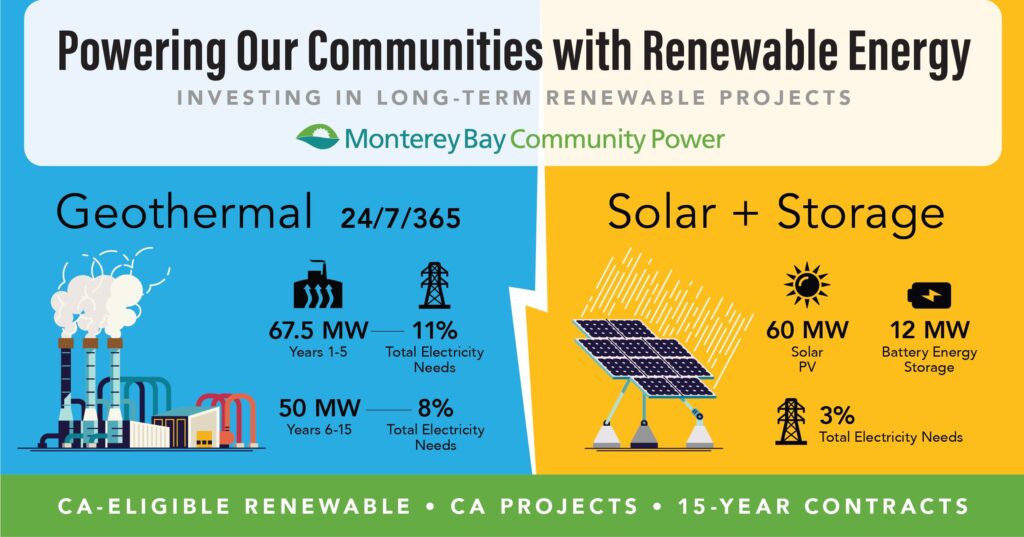 MBCP COVID-19 Response Infographic