Electric Bus Program
Under Development Until Next Fiscal Year
Overview
General Overview
Under Development Until Next Fiscal Year
The Electric School Bus Program provides public schools and school districts enrolled in CCCE service with an opportunity to receive funding to cover 50%, but not to exceed $200,000 of the total sales cost of an electric school bus. The school/school district must demonstrate a minimum of 50% matching funds requirement to complete the bus purchase after the CCCE incentive. The program will be available on a rolling basis until fully reserved. Schools designated as Title 1 schools will receive priority funding.
Benefits
Benefits Of Going Electric
Cheaper to run and maintain
Districts typically save 72% on fuel compared to a standard diesel bus.
Save up to 80% in maintenance without oil to change, timing belts to replace, spark plugs and ignition – just to name a few.
Less harmful pollutants emitted
Each school bus replaced with an all-electric model is estimated to avoid 15.6 metric tons of greenhouse gas emissions (MTCO2e) each year, including diesel particulate matter.
Happier, healthier kids with a safer ride
Cleaner air is linked to increased attendance, academic and physical performance, and cognitive functioning.
Electric buses have best in class driver visibility, a tighter turn radius, wider aisles – and so much more!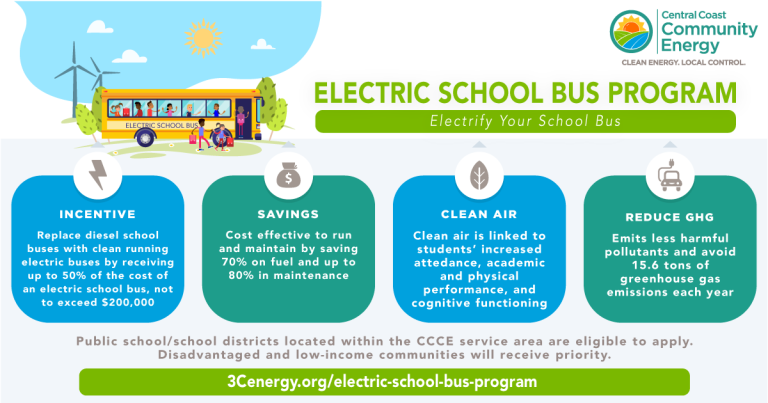 Walkthrough
Program Walkthrough
1
School/school districts will identify desired bus and secure necessary match funds to complete bus purchase and apply for CCCE's funding online. Electric bus manufacturers and local Air Pollution Control Districts may have additional funding programs available to combine with this funding.
2
If accepted, CCCE will issue a Letter of Intent (LOI) to fund the bus(es) to the selected School/school district.
For additional support, please contact CCCE Staff at programs@3ce.org
Are you wondering how you will charge your new electric bus?
Central Coast Community Energy is also providing EV rebates and EV charging station and installation rebates. Public schools and school districts are considered public agencies and are eligible for the highest funding amount.