New Construction Electrification Program
Supporting All-electric Affordable Housing
Overview
General Overview
Through a first come first served application process, the New Construction Electrification Program (NCEP) will provide affordable housing developers with incentives to build all-electric housing. Housing projects must be built to all-electric standards for all energy utility needs including but not limited to water heating, space heating, and cooking appliances. Incentives are determined on a per unit basis and will be provided "downstream" to developers upon successful completion of the project.
A maximum of $150,000 will be awarded to a housing development.
Funding amounts depend on the number of all-electric units being built.
$2,500 per affordable housing unit
Going Electric
Benefits of Going Electric
All-electric housing is cheaper and safer to build.
Building occupants benefit from cleaner indoor air and ultra-high efficiency appliances that provide greater safety and comfort.
All electric housing reduces greenhouse gas emissions and criteria air pollutants by eliminating natural gas.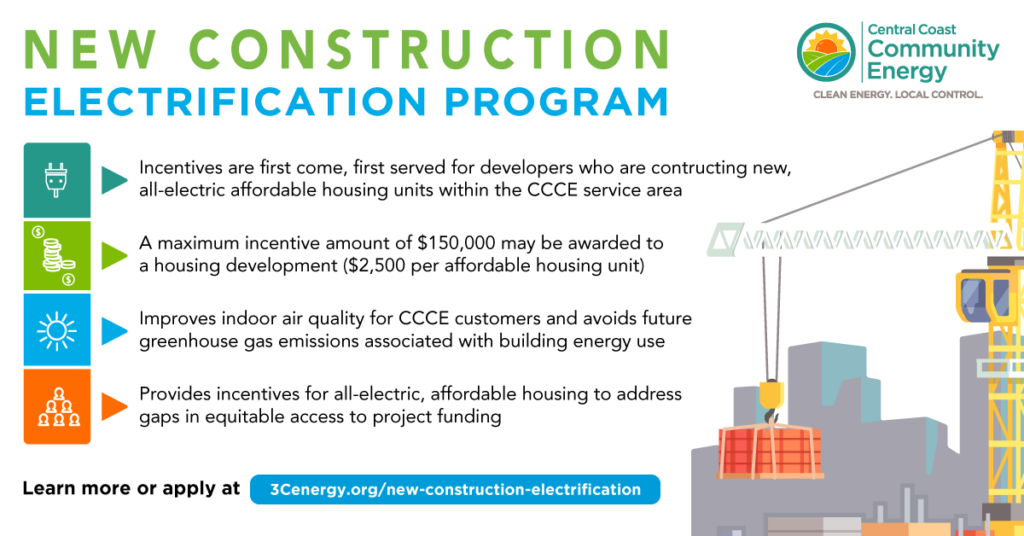 Walkthrough 
Program Walkthrough
Developers can apply online for an affordable housing project.
If accepted, CCCE will issue a Letter of Intent (LOI) that will reserve an incentive ($150,000 max per project) for up to 3.5 years until the development is complete.